2017 Fantasy Basketball Draft Software
Our draft software has every option covered. Online, offline, snake, auction. It all works.

Track Your Entire Draft
Keep your eye on the big picture so you can react to the draft as it unfolds.

Research On The Fly
Research players, dive into stats, check depth charts and more.
When you're in the middle of a fantasy basketball draft, you need software that just works.
You want helpful information, you want it fast, and you want it to be there exactly when you need it most – without a lot of effort.
That's exactly what you'll be getting when you download our 2017 Fantasy Basketball Draft Software and it's absolutely FREE if you subscribe to RotoWire today.
How To Download Our Draft Software
Full, unlimited access to our fantasy draft software is included for FREE with any RotoWire fantasy basketball subscription. Once you've subscribed, a button to download the software will appear on this page and you'll be able to use it right away.
Get Our 2017 Draft Software Now

NOTE: This software is PC-ONLY, but we do have a similar iPhone/iPad app available for Apple devices.
Draft Software Screenshots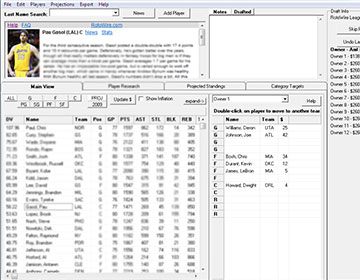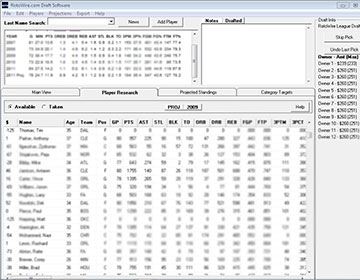 Frequently Asked Questions
Does the software work offline? I may not have access to the internet during my draft.
Yes, the software does work offline. However, you'll want to connect prior to your draft so you're using the most recent data.
Can I use it for an auction draft?
Yes, you can use it as auction draft software. Almost any format you could dream up is possible.
Can I transfer my drafts/auctions between computers?
Yes, it is possible to transfer all of your drafts/auctions to another computer.